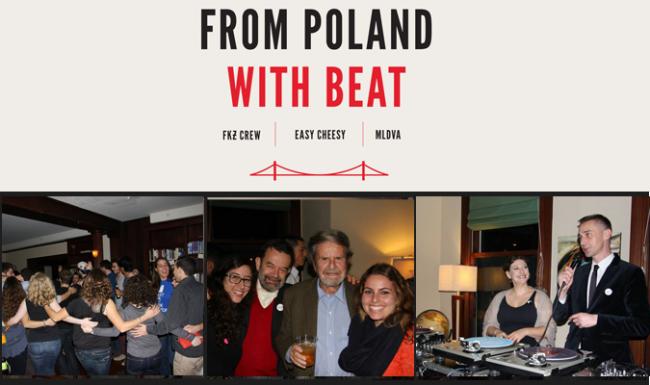 On December 6, the Hillel at Stanford reverberated with the beats of Polish DJs at its annual "Light It Up" Hanukkah party. Brought for the first time to California by the Jewish Culture Festival in Krakow, which is celebrating its 25th anniversary in summer 2015, the DJs were part of the "From Poland with Beat" events, which foster cross-cultural musical exchange and bring the experience of the Jewish Culture Festival to new communities. The first party took place in Tel Aviv, and the second edition traveled to Hillel at Stanford as well as other venues in San Francisco. The Bay Area collaborations were supported by the Polish Foreign Ministry, which aims to foster connections with diaspora communities.
The two Polish DJ collectives, Easy Cheesy and MLDV, mixed the best of Israeli, European, Turkish, and Arabic vintage music with the greatest hits of the 60s and 70s, the golden era of the Polish music scene. Young Jews and Poles living in the Bay Area, part of the modern and growing Polish diaspora, crowded into Stanford Hillel and celebrated all night, joining in line dances and eating traditional Polish and Jewish treats.
The event was sponsored by the Polish Ministry of Foreign Affairs and City of Krakow, in partnership with Hillel at Stanford, San Francisco-Krakow Sister Cities Association, and Taube Philanthropies, whose Chairman, Tad Taube, attended the party and did not want to leave. Said Taube, "This party epitomizes the dialogue we want to create between the sister cities of San Francisco and Krakow. We want the younger generation to see their connections to Poland, where 85% of North American Jews have their roots."
Said a Hillel student, "We have been waiting for such an event for a long time. Thank you for bringing this experience to us!" The Krakow Jewish Culture Festival, Hillel at Stanford, and Taube Philanthropies hope to make the party an annual event.