Building Construction Nears Completion; Installation of Core Exhibition Begins­­­­­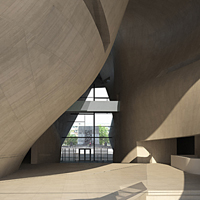 The Museum of the History of Polish Jews, rising up on the historic site of the Warsaw Ghetto, is well on its way to completion. Designed by the Finnish architectural firm Rainer Mahlamäki and Ilmari Lahdelma, the Museum is scheduled to open on the 70th anniversary of the Ghetto Uprising, April 19, 2013. Now, finally, the legacy of East European Jewry will be able to be explored in the very place where this history unfolded.
The unique copper-and-glass façade of the finished structure will create a dynamic interplay between light and form, captivating visitors with its dramatic backlit views. The glass panels are being embellished with a special screen print pattern of elegant letters taken from Latin and Hebrew alphabets. Together, the letters signify the word "Polin" (ןילופ) — the Hebrew word for Poland — interpreted as "Po-lin": po ("here") lin ("[you should] dwell"). In the dramatic reach of the building's exterior, the medium is the message. The message of "Polin," reported to have come to Poland's first Jewish settlers from a divine voice, was interpreted as "a haven for Jews." Now, in this very place, a thousand years of Jewish history will shine in the light of the building's façade. As they enter the Museum grounds, viewers will see the symbols of a thriving and creative culture reflected in the letters and relayed through their material design: the fragility of glass, the sturdiness of copper, and the illumination of light shed on the past and in celebration of an active Polish Jewish cultural center.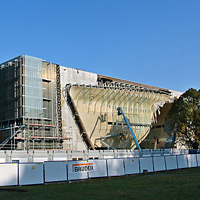 This stunning, state-of-the-art Jewish museum will be on a par with the U.S. Holocaust Memorial Museum and Israel's Yad Vashem. The key difference is that the Museum of the History of Polish Jews will extend the historical narrative beyond the Holocaust to encompass an epic Jewish history that even today profoundly shapes contemporary Israeli and American Jewish life.
Tad Taube, a Distinguished Benefactor of the Museum, has enlisted the principle of collaborative funding to help support the Museum, recognizing that bringing donors together to pool their resources can achieve much greater impact than a single charitable entity may otherwise be able to accomplish.
Visit The Museum of the History of Polish Jews website for more information.