Rabbi Michael Schudrich, the Chief Rabbi of Poland, has a long and rich history of involvement in the Jewish communities of both Eastern Europe and Asia. As a student in the 1970's, Schudrich began his travels to Eastern Europe by leading Jewish groups to those countries and meeting with members of what remained of the Jewish communities there. After receiving smicha (rabbinic ordination) through Yeshiva University, Schudrich served as rabbi of Japan's Jewish community from 1983-1989. From 1992-1998, he resided in Warsaw, Poland.
In June 2000, Rabbi Schudrich returned to Poland as the Rabbi of Warsaw and Lodz, and in December 2004, he was appointed to the position of Chief Rabbi of Poland. Rabbi Schudrich serves on behalf of Poland's Jewish community as the official interlocutor with both the Polish government and the Catholic Church. He accompanied the president of Poland on his recent trip to Israel and to the funeral of Pope John Paul II. Rabbi Schudrich is credited with arranging a special blessing by Pope Benedict for righteous gentiles who gathered for the Pope's visit to Poland.
Rabbi Schudrich is especially proud of the time he spends counseling Poles who have recently discovered their Jewish identity. In his role as chief rabbi, Schudrich oversees five rabbis and numerous Jewish day schools and summer camps. In addition, he works to protect and preserve mass gravesites, including more than 1,400 cemeteries and the six concentration camps in Poland from World War II.
Much of Rabbi Schudrich's work in Poland is funded by the Taube Foundation for Jewish Life & Culture. The Foundation's Jewish Heritage Initiative in Poland is the first philanthropic partnership program to support this dynamic revival and to connect American Jewry with their Polish heritage.
Rabbi Schudrich advises the foundation on priorities for religious and communal life in Poland. Rabbi Schudrich was born in New York City in 1955. Educated in Jewish day schools in the New York area, he graduated from the State University of New York at Stony Brook in 1977 with a Religious Studies major and received an MA in History from Columbia University in 1982.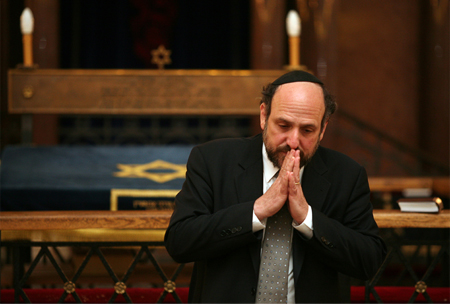 Rabbi Michael Schudrich, Chief Rabbi of Poland.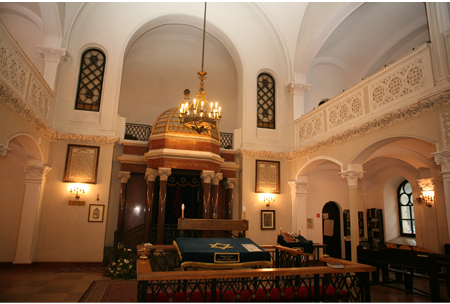 Inside the Nozyk Synagogue in Warsaw.