Taube Philanthropies congratulates the POLIN Museum of the History of Polish Jews on the most recent recognition of one of its special exhibitions in 2016, titled "Frank Stella and Synagogues of Historic Poland." The Stella exhibition was named one of the world's top 15 art exhibitions by Hyperallergic, a widely acclaimed art publication with 70,000 subscribers and known for its "Best of" lists. Please see below:

Best of 2016: Our Top 15 Exhibitions Around the World
Our picks for the best art shows in the world this year.
Hyperallergic, December 30, 2016
Frank Stella and Synagogues of Historic Poland
February 19–June 20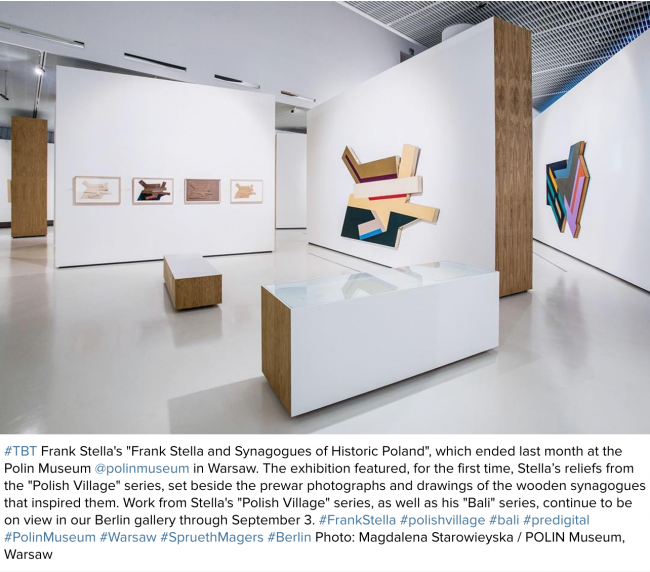 In 1964, Stella famously declared of his paintings: "What you see is what you see." However, even as soon as 1970, when he began his series Polish Village, he was already moving beyond this minimalist credo. The works in the series are assemblages based on drawings and photographs of wooden synagogues, all of which had been burned down by the Nazis. Stella's economy of use of lines and shapes as well as sparing color ostensibly explores the complex, geometric interlocking of the synagogue architecture which he admired. However, installed for the first time in Poland and at a museum focused on history of Polish Jews in Warsaw, his works veer more towards elegy, the affective, and the ineffable.