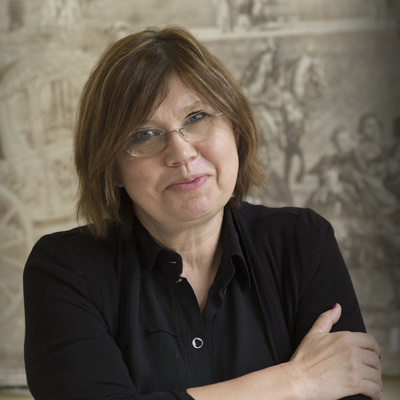 MAY 10, 2021, SAN FRANCISCO — Taube Philanthropies has named the founder and director of the Polish Center for Holocaust Research at the Polish Academy of Sciences as the recipient of its 2021 Irena Sendler Memorial Award. At this globally recognized consortium for Holocaust studies, established in 2003, Prof. Engelking, a sociologist and leading authority on the history of the Warsaw Ghetto, has pioneered new directions in Holocaust research and interdisciplinary methodology, published dozens of respected books and articles, edited several volumes of primary Holocaust sources, and produced, with Jacek Leociak, the most comprehensive and authoritative monograph on the Warsaw Ghetto. As lead scholar and co-curator for the Holocaust gallery in the 8-gallery Core Exhibition of the POLIN Museum of the History of Polish Jews, in Warsaw, she has played a vital role in creating a historical narrative that meets the highest scholarly standards, while delivering a compelling visitor experience for broad and diverse audiences.
Between 2014 to 2018, Prof. Engelking chaired the International Auschwitz Council. She held the U.S. Holocaust Memorial Museum's Ina Levine Invitational Scholar, in Washington, DC, in 2015-2016. One of her most ambitious works is Dalej jest noc: losy Żydów w wybranych powiatach okupowanej Polski, co-edited with Professor Jan Grabowski of the University of Ottawa and with texts by nine authors. Published in 2018, this two-volume, 1,600-page study of nine counties in Nazi-occupied Poland identifies small Polish towns as "death traps" for Jews in hiding during the Holocaust. An abridged English-language version will be published later this year as The Night Without End: The Fate of Jews in Selected Counties of Occupied Poland (Indiana University Press).
The Taube Philanthropies' 2021 Irena Sendler Memorial Award, named for the Polish social worker who saved Jewish children from the Warsaw ghetto during the Nazi occupation, was announced on Monday, May 10, 2021, marking the thirteenth anniversary of Irena Sendler's death on May 8, 2008.
"Professor Engelking is an outstanding and internationally respected Holocaust scholar," said Tad Taube, Chairman of Taube Philanthropies. "Through the Irena Sendler Award, Taube Philanthropies expresses our deep appreciation and respect for her stellar accomplishments."   
Plans for the annual award ceremony, which is usually held at the Jewish Culture Festival in Kraków or at POLIN Museum in Warsaw, will be announced in the near future.
About the Irena Sendler Memorial Award
The Irena Sendler Memorial Award was created in 2008 by Taube Philanthropies in memory of Irena Sendler whom Yad Vashem named a "Righteous Among The Nations." Each year, the award is presented to those who have been exemplary in preserving and revitalizing Poland's Jewish heritage. Nominations for the award are reviewed by a panel of Taube Philanthropies advisory board members and Jewish cultural leaders in Poland.
About Taube Philanthropies
For more than 30 years, Taube Philanthropies has been a leader in supporting diverse educational, research, cultural, community, and youth organizations in the San Francisco Bay Area, Poland, and Israel. Founded by businessman and philanthropist Tad Taube in 1981, and now led by Tad and his wife Dianne Taube, the organization works to ensure that citizens have the freedom and opportunity for advancement of their goals and dreams.
About the Irena Sendler Memorial Awardees, 2008-2020
2008: Janusz Makuch, director of the Jewish Culture Festival, Kraków; 2009: the late Jan Jagielski, archivist, Emanuel Ringelblum Jewish Historical Institute; 2010: former President of Poland Aleksander Kwaśniewski; 2011: the late Magda Grodzka-Gużkowska, who risked her life to help Irena Sendler rescue Jewish children from the Warsaw Ghetto; 2012: eminent scholars Prof. dr hab. Maria Janion and dr hab. Jolanta Ambrosewicz-Jacobs, prof. UJ; 2013: Hon. Bogdan Zdrójewski, former Minister of Culture and National Heritage; Hon. Hanna Gronkiewicz-Waltz, Mayor of Warsaw; 2014: Małgorzata Niezabitowska, author and journalist; Tomasz Pietrasiewicz, director of the Grodzka Gate—NN Theatre Center; 2015: Krzysztof Czyżewski, director of the Borderland Foundation; the late Dr. Jan Kulczyk, Distinguished Benefactor of POLIN Museum of the History of Polish Jews; 2016: Prof. dr hab. Monika Adamczyk-Garbowska, professor of Jewish and Yiddish literature at Maria Curie-Skłodowska University in Lublin; the late Maria Piechotkowa, renowned architect and scholar of Polish synagogue architecture; 2017: Stefan Wilkanowicz, author, editor, educator, and Catholic activist; Bogdan Białek, founder of the Jan Karski Society and Institute for Culture, Meetings and Dialogue; 2018: Norman Conard, U.S. educator who brought Irena Sendler to world notice; Ola Bilińska, Yiddish culture researcher and musical artist; 2019: Zuzanna Radzik, scholar and activist in Catholic-Jewish relations; Adam Bartosz, ethnographer and museologist; and 2020: Prof. Dariusz Stola, former director of the POLIN Museum of the History of Polish Jews.