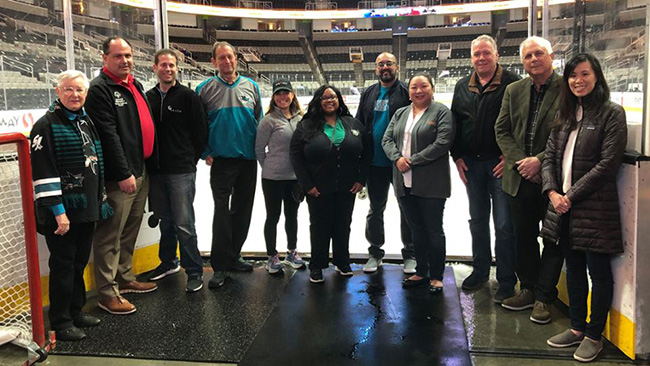 More Than 250,000 Lives to be Impacted with the Help of Bay Area Sports Teams, the Koret Foundation and Taube Philanthropies
by San Jose Sharks @sanjosesharks / sjsharks.com
SAN JOSE, CA - The Warriors Community Foundation (@GSWfoundation), 49ers Foundation (@49ersCommunity) and the Sharks Foundation (@SharksCare), in partnership with the Koret Foundation (@KoretFoundation) and Taube Philanthropies (@TaubePhilanthro), announced today that collectively they have donated $1,048,500 to local non-profits which positively impacted 254,077 lives throughout the Bay Area.  
Through the Hoops 4 Kids program (Golden State Warriors), Touchdowns For Kids program (San Francisco 49ers), and Goals For Kids (San Jose Sharks) programs, the Koret Foundation and Taube Philanthropies partnered with these three professional sports teams to raise funds that were accumulated throughout the season based on athletic accomplishments for each team. The funds were then donated to various beneficiaries at the completion of each of the NBA, NFL and NHL 2018-2019 seasons.   
"The Koret Foundation is proud to join forces with three storied franchises in investing in pathways to success for young people throughout the Bay Area," said Michael Boskin, President of the Koret Foundation. "The work of each of these foundations and organizations is creating lasting change that will benefit countless children, teens, families and our community at large for years to come."
"On behalf of Taube Philanthropies, I'd like to express my sincere thanks and congratulations to the Warriors Community Foundation, Niners Foundation, and Sharks Foundation for three outstanding seasons that allowed our partnership to raise significant funds for our very deserving beneficiaries," said Tad Taube, Chairman of Taube Philanthropies. "We are extremely proud to be working with these fine professional sports organizations and are delighted to have found such a fun and unique way to raise the funds that will make an ever-lasting impression on the lives of those in our community. We look forward to doing more good work next season with all three teams."