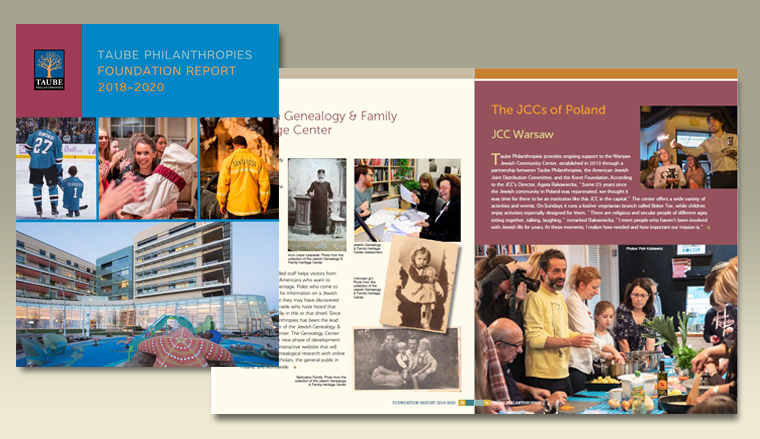 The last two years have marked a time of considerable expansion for Taube Philanthropies, despite the challenge imposed by the pandemic. Our scope of philanthropic giving continues to broaden and deepen in the areas of medical research and treatment; civic and cultural life; academia and campus life; support for youth through sports; humanitarian aid; and Jewish Peoplehood in the Bay Area, Poland, and Israel.
Our new Foundation Report encapsulates the major accomplishments in 2018-2020 of the Taube Foundation for Jewish Life & Culture, the Taube Family Foundation, and the Taube Family Donor Advised Fund at Stanford. Each of these three funds supports its share of projects and programs, which are often magnified through collaborative giving partnerships with sister philanthropies and individuals who share our overall vision and philosophy. Recognizing that foundations, like multinational businesses, touch lives in every part of the world, we aim to form joint ventures to promote large-scale projects, enhance long-term stability in nonprofit institutions, and invest in new technologies.
By providing this document, we intend to share with you the depth and breadth of our commitments as Jews and as citizens. Our choices of projects to fund, and institutions to sustain and advance, allow us to help secure the future that we believe reflects the best of our past.
We hope you enjoy reading about our efforts and that some of our projects and programs will touch your life for the better.