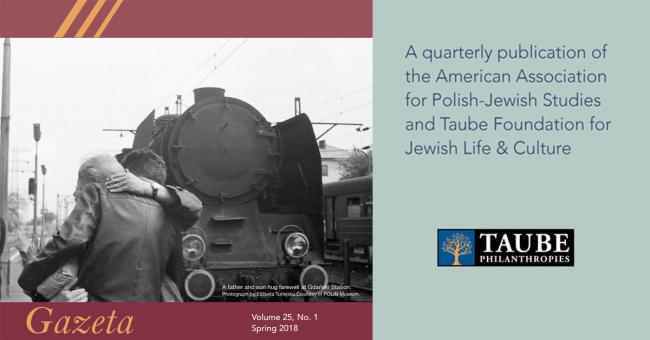 Dear Friends and Colleagues:
We are pleased to present the Spring 2018 issue of Gazeta, co-produced by the Taube Foundation for Jewish Life & Culture (TFJLC) and the American Association of Polish-Jewish Studies (AAPJS).
For over 20 years, the Gazeta newsletter has reported current affairs and program developments in Polish Jewish scholarship and cultural life. The Taube Foundation is proud to partner with the AAPJS in expanding Gazeta's reach to a broader audience online.  
For any questions or requests to be added to the Gazeta e-mail list, or if you wish to submit announcements for the Summer/Fall 2018 issues, please email: info@taubephilanthropies.org
Thank you.
Cordially,
Irene Pipes,
Tad Taube, and Shana Penn