New Scholarly Program, GEOP, bolsters the fields of Polish Jewish Studies and Jewish Museum Studies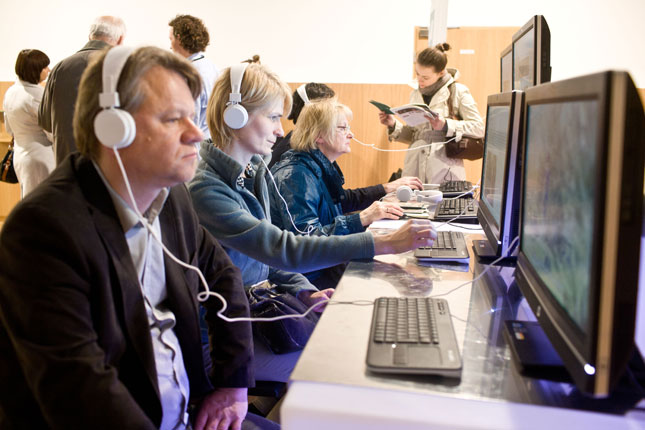 ​Photo: POLIN Museum of the History of Polish Jews
San Francisco/Warsaw -- The POLIN Museum of the History of Polish Jews and the Emanuel Ringelblum Jewish Historical Institute are proud to announce the seven recipients of the inaugural Global Education Outreach Program (GEOP) Research Fellowships in Polish Jewish Studies. There were 30 candidates from 26 universities from the US, Israel, and eight European countries. The seven recipients and their respective research topics are:
Katharina Friedla, Yad Vashem, Topography, Experience and Memory of Life in Transit: Polish Jews in the Soviet Union (1939–1959)
Sofiya Grachova, Mandel Center for Advanced Holocaust Studies, United States Holocaust Memorial Museum, Science and Ethnic Minorities in Eastern Poland/Western Ukraine, 1921-1947
Mariusz Kałczewiak, Tel Aviv University/Justus Liebig University Giessen, "Be Loyal to Poland!" Polish Jews in Argentina and Their Ties to the Old Homeland, 19106-1939
Urszula Madej-Krupitski, UC Berkeley, Mapping Jewish Poland: Material Culture, Everyday Life and Identity Negotiations in the Interwar Period
Alicja Maślak-Maciejewska, Jagiellonian University, Krakow Progressive Synagogue in the 19th century
Jolanta Mickute, Vytautas Magnus University, Modern, Zionist, Feminist: The Politics of Culture, Ethnicity, and Gender in Interwar Poland, 1918-1939
Natalia Romik, University College London, Post-Jewish architecture of memory within former Eastern European shtetles
The GEOP Research Fellows will: 
present their works-in-progress in a monthly seminar
participate in the full program of lectures, workshops, and conferences at POLIN Museum and the Jewish Historical Institute
conduct research in archives and libraries in Warsaw and elsewhere in Poland
consult with an assigned mentor from POLIN Museum, the Jewish Historical Institute, and/or other academic institution in Warsaw or Poland
 
Applications will be reviewed on an annual basis. For more information, please refer to: www.polin.pl/en/geop
About GEOP: 
GEOP aims to strengthen POLIN Museum as an international center for intellectual exchange and collaborations in the fields of Polish Jewish studies and Jewish museum studies. GEOP supports research fellowships, scholars-in-residence, post-doctoral seminars, distinguished lectures, conferences, publications, and the development of digital resources. Through GEOP, POLIN Museum partners with the Emanuel Ringelblum Jewish Historical Institute and numerous universities and research institutions in Poland and worldwide.
The GEOP is generously supported by the William K. Bowes, Jr. Foundation, the Taube Foundation for Jewish Life & Culture, and the Association of the Jewish Historical Institute of Poland.