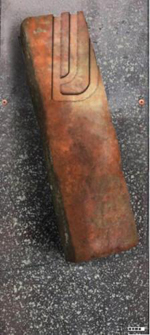 San Francisco, CA – The Taube Foundation for Jewish Life & Culture today announced that the father and son designers Andrzej and Maciej Bulanda are winners of the international mezuzah design competition for the Museum of the History of Polish Jews inWarsaw, Poland. The one-of-a-kind mezuzah will be affixed to the front entrance of the Museum during a ceremonial preview on April 19, 2013, the 70th anniversary of theWarsaw Ghetto Uprising.
A panel including the Chief Rabbi of Poland, Michael Schudrich; Dr. Barbara Kirshenblatt-Gimblett, Core Exhibition Director at the Museum of the History of Polish Jews; and professors from the Academy of Fine Arts inWarsaw, selected the winning mezuzah from 90 entries.
The Museum's unique mezuzah is made of bricks from masonry buildings that once formed the corner of Nalewki and Gesia Streets, the heart of Jewish Warsaw before the community was decimated. "Those who touch the mezuzah will touch the sidewalks of pre-war Jewish Warsaw," explained the designers in their submission to the competition.
"By using these historic physical remnants of the Jewish community prior to the Holocaust, Andrzej and Maciej Bulanda have created a mezuzah that captures the spirit of the Museum itself—to honor and share 1,000 years of Jewish life and culture in Poland," said Tad Taube, chairman of Taube Philanthropies. "This very special mezuzah will welcome generations of Museum visitors. We are reclaiming a heritage that is a foundational element of Western culture and renewing our shared pride in what this precious legacy represents to the people of Poland and to humanity."